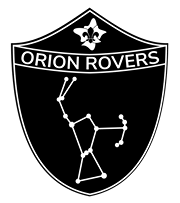 Orion is a brand-new Rover Unit which started in 2021. Based in the Northfield Scout Hall, we offer a fun, adventurous and challenging program for young adults aged 18–25.
As Scouts we use the stars to camp beneath, navigate and light our way. These same stars existed before we were born and will continue to exist far beyond our lifespans. How strange is it knowing that something over 9 trillion kilometres away is visible to us on earth? It almost makes you feel small doesn't it?
Orion shows up in various cultures around the world, which each interpret the constellation in different ways. What do you think the stars are here to tell us?
Why not find out and join us in dancing beneath the stars?
Unit Leader: Ashley McCallum
Email: Orion@sarovers.com.au
Unit Meeting Location: Kilkenny Scout Hall – 1 Pym St, Croyden Park

Downloads available from Orion
New Program to come (contact us via email or Facebook messenger for more info until we can update)
TBA (Stay Tuned)